Dear friends,
Thank you for turning out to last week's youth led, intergenerational #GlobalClimateStrike. Turn out exceeded our expectations as we saw thousands of Angelenos leave class and work to shut down business as usual to elevate the global climate emergency! This week, our momentum building work continues! We hope to see you at the Global Climate Strike at the Brazilian Consulate on Friday! Can't make it? See below for details on how you can act in solidarity online and by phone as a a state-wide advocate for environmentally just policy in California!
Your friends,
SoCal 350
---
9/27/19 Global Climate Strike Pt. 2
Where: Brazilian Consulate 8484 Wilshire Blvd. Ste. 300 Beverly Hills, CA
When: Sept. 27, 2019 10:30am-2:30pm
RSVP HERE.
Los Angeles will join over 100 countries on September 27th for a massive Global Climate Strike! Millions around the world are uniting to defend the earth, its ecosystems, and our collective future from from ecocide, genocide, ethnocide, and femicides. In LA, this strike will be adult-led and youth supported.
As members of the Last Chance Alliance, we are urging Governor Newsom to take executive action to:
–STOP issuing new oil drilling permits
–DROP existing oil production (Prohibit imports of Amazon crude at California ports)
–ROLL OUT a 2,500 ft. safety and health buffer zone between frontline communities and oil drilling sites.
Additional demands, we urge the Brazilian government to:
Enforce the U.N. Declaration of Indigenous People' Rights and work collaboratively with foreign governments to enforce indigenous rights and territory.
abstain from hate speech and threats directed at minorities, NGOs and activists and to work instead to protect the human rights of all Brazilian citizens;
stop the fires, suspend permanently fire permissions on the Amazon and take all measures to immediately ensure the elimination of illegal deforestation, following Brazil's obligations under the United Nations Convention on Climate Change;
protect indigenous peoples' rights as guaranteed under the Brazilian Constitution,
increase the sustainable development of the Amazon rainforest by strengthening environmental enforcement and ending illegal deforestation.
---
Become an advocate for Environmental Justice in California:
Call Governor Gavin Newsom's Office
Since Governor Newsom took office, oil drilling permits have doubled and staff at the Department of Oil, Gas, and Geothermal Resources have been exposed for having investments in oil companies.
This summer, McKittrick in Kern County was ground zero for the largest oil spill in recent California history, which happened at a site operated by global polluter Chevron.
California currently imports 50-60% of crude extracted from the Western Amazon basin, much of which is processed at Chevron refineries. Protecting the Amazon rainforest means raising pressure on Governor Newsom to take immediate action to meet our demands!
Sign this petition, which will be creatively delivered to Newsom.
RSVP for the Last Chance Alliance Campaign Meeting & Phonebank on October 2, 2019 from 3-5:30pm.
Call Governor Newsom's office at 1-877-247-1820 to call on him to be a true leader for climate, jobs, and justice! Here's how you can make your voice heard:
1.       Call 1-877-247-1820 for Gov. Newsom's office
2.       Press 1 or 2 for preferred language
3.       Press 6 to speak to a representative
4.       Use script below
Hi, my name is [FIRST, LAST], and I live in [CITY]. With youth leaders across the state striking for climate, I'm calling to ask Governor Newsom to take bold action to protect Californians from the climate and health emergency we're in. I urge him to:
●       Protect frontline communities with a 2500-foot health and safety buffer from dangerous drilling
●       Stop new fossil fuel projects that lock in climate catastrophe
●       Lead the state's just transition off oil and gas extraction altogether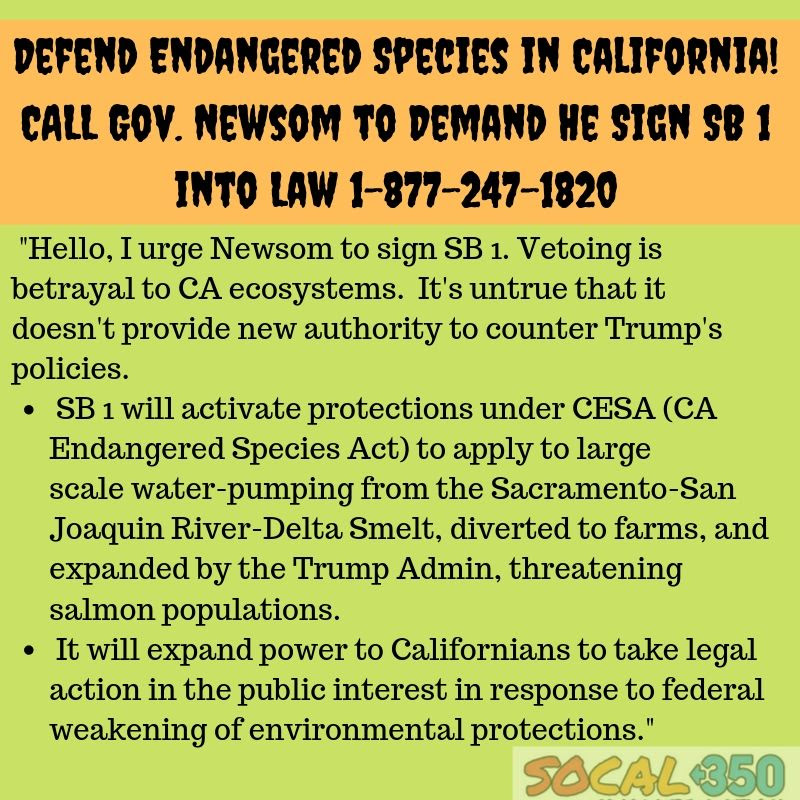 Most recently, Governor Newsom has threatened to veto Senate Bill 1 which would create a state-mandated program to respond to federal rollbacks of the Clean Air Act, Clean Water Act, and Endangered Species Act (ESA) of 1973. This bill would provide state agencies options to protect species under the California Endangered Species Act (CESA) that have lost protections under the Federal ESA.  SB 1 expands power to Californians to take legal action in the public interest in response to federal weakening of environmental protections. Contrary to Newsom's allegation that, "SB 1 does not expand the state's authority to respond to the Trump administration's environmental policies," it will activate protections under CESA to apply to large scale water-pumping from the Sacramento-San Joaquin River-Delta Smelt. According to a Times article, The Trump administration, "rewrote federal rules in order to pump more more water from the delta and divert it to farms." This has exacerbated devastation in salmon populations. Read more here. Let us not forget that Newsom received $637,398 in campaign contributions from the agricultural sector. When you call Newsom, don't forget to demand that he sign SB 1!
---
9/28 Water Protectors from El Salvador at CARECEN

Where: Center for Central American Resources, 2845 W. 7th St. Los Angeles, CA 90005
When: 4-6pm
RSVP HERE.
In the past year, our staff have advanced our goal of building bridges with the migrant justice movement and deepening our understanding of the relationship between indigenous rights, environmental injustice, climate change, state violence, and forced migration. We invite you to join us this Saturday to continue deepening our relationship to the Central American community in Los Angeles. Water protectors who are visiting from El Salvador will be reporting on the state of the water crisis, ongoing attacks on water defenders and the impact of climate change in at the local and national levels of the country. They will also be speaking at the Brazilian Consulate on Friday but this will be a more in depth informational assembly.